Is the Cost of Maid Service Worth It?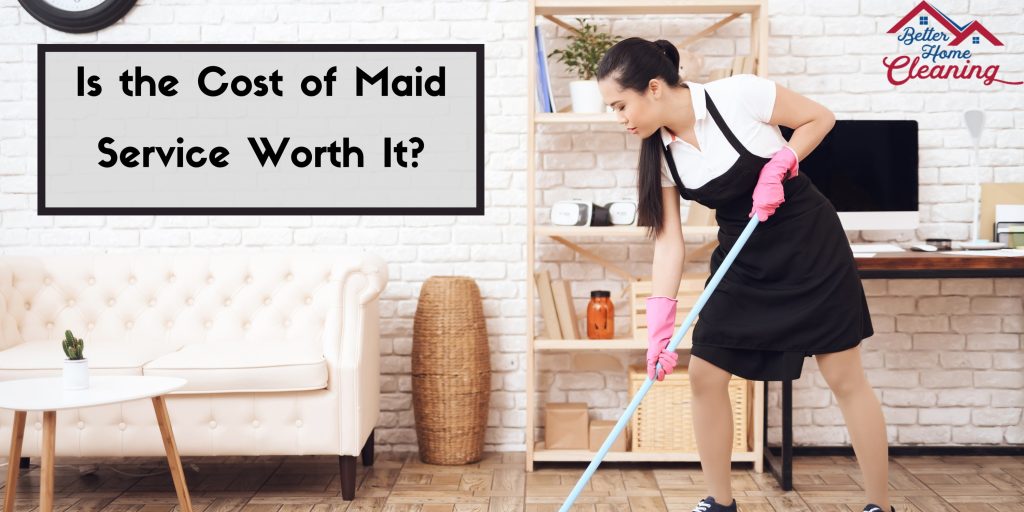 Life is busy, making it difficult to keep up with daily tasks; especially when it comes to cleaning. In a recent survey, 58% of people said that having a messy home makes them feel stressed or anxious. The survey also found that 69% of people don't clean to relieve stress. It's clear to see that most people experience a lot of stress with cleaning tasks. One of the best ways to relieve that stress is to have help. Whether that is family members or cleaning professionals.
There are a lot of factors to consider before hiring a maid service to clean your home. For some, the decision is easy while others find it hard to commit. Either way, hiring a professional cleaning service is a luxury of life. It's time to explore whether or not the cost of maid services is worth it for you and your home.
What is the average cost of maid services?
One major hold up when it comes to hiring maid services is the cost. In the United States, the average cost of cleaning services is $40-$65 an hour. This price will vary depending on your location and the size of your home. Also keep in mind that an individual cleaner is usually cheaper because they are not bonded and insured while a cleaning company has these protections in place for clients.
The cost of maid services will also vary depending on the type of services needed. At Better Home Cleaning, we offer a range of services to match client needs. This includes weekly, biweekly and monthly cleaning options as well as deluxe deep cleaning services. Click here for a free, no-obligation quote.
Reasons Why the cost of Maid Service is Worth It
It may shock you to hear that the average household spends over $600 per year on cleaning supplies. Since you're already investing monthly to buy cleaning supplies, a little extra towards maid services can go a long way. Let's take a look at 3 reasons why the cost of maid service is worth it.
Less Stress, More Enjoyment
The majority of people find cleaning tasks stressful or they lack the time needed to complete them. Clutter and stress are directly related to each other. Unloading the stress of cleaning onto a maid service can leave you with more daily joy. Spend time doing what you enjoy while a cleaning company completes all the cleaning tasks.
More Time for Other Activities
Whether it's work, relaxation, or hobbies, extra time is always a bonus. When it comes to hiring professional cleaners, you'll have extra time for everything else. The stress of housework is taken from your mind so you can focus on other tasks you need to complete. It's easier to divide your time doing tasks that uplift you while someone else does the cleaning for you.
Professionals You Can Trust
When you have so many other things vying for your attention, it can be hard to give cleaning the attention it deserves. Hiring a professional cleaning company allows them to focus on all the cleaning tasks. When you hire Better Home Cleaning you can expect quality and attention to detail in all aspects. We run thorough background checks before hiring and train our cleaning technicians to follow a checklist to ensure every area is taken care of.
Hopefully this discussion gives you a chance to take some time to evaluate your cleaning needs and budget. We are always happy to take away the stress of cleaning so you can enjoy your home, just give us a call!