Professional Cleaning Service vs Individual Housekeeper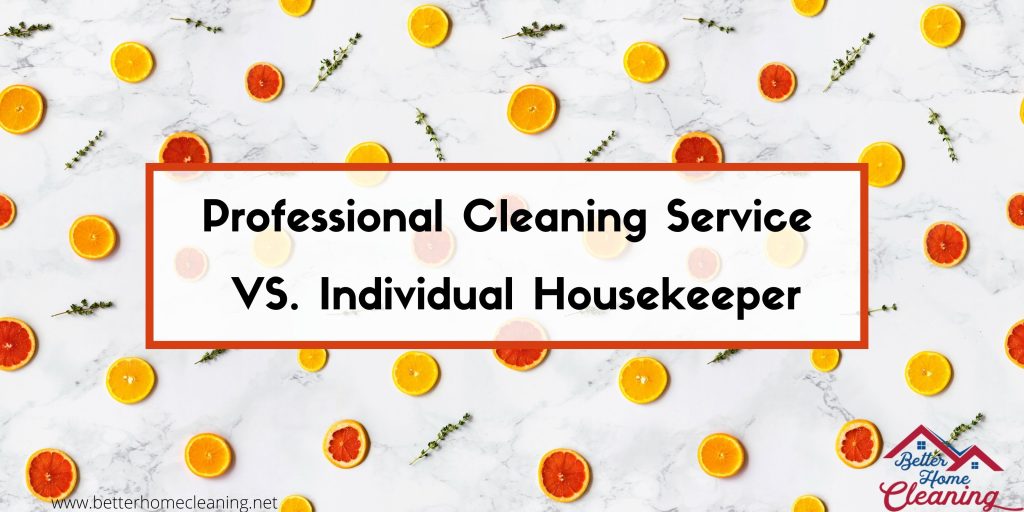 Ever wondered whether you should hire a professional cleaning company or an individual housekeeper? Your decision should be based on your priorities because honestly, there are pros and cons to both sides. Let's look at the list of pros and cons so that you can make the best decision about who cleans your home!
Pricing
Most of the time, quotes you receive from personal housekeepers will be lower than a professional company. Looking at price as the only factor when hiring a cleaner makes individual housekeeping an attractive option. Let's take a look at other key factors before making a final decision.
Reliability and Trust
Individual cleaners and a professional company can both be reliable, however, there are different levels of reliability to consider. For example, when it comes to vacation or sick days, a professional company will have someone to cover the cleaning while individual cleaners do not. A professional company has multiple cleaners that can take care of your home whenever it's needed.
Trust goes hand in hand with reliability, especially when it comes to your home. You should always make sure you trust someone before letting them into your home. At Better Home Cleaning, we make sure that our cleaners are trustworthy before hiring. We search through candidates and run background checks so you don't have to. When hiring an individual housekeeper, you are responsible to interview, run background checks, and test their cleaning skills.
Insurance, Bonded, Taxes & Liability
When it comes to legal issues, there is often a big difference between a professional company and independent cleaners. A cleaning company will take care of the legal hassle so you can have peace of mind. Many independent cleaners do not carry insurance which can leave you vulnerable as the homeowner.
When considering a professional cleaning company, make sure to find one that is bonded so they cover any theft of property in your home. It's one less thing you have to worry about.
Taxes are another critical factor to consider in your hiring process. Both cleaning companies and independent cleaners should take care of them, however, independent cleaners can create tax issues. The IRS could determine that they are your employee and require you to cover taxes and other legal obligations as an employer.
A professional cleaning company is great when it comes to liability because they will cover any necessary workers compensation if someone is injured in your home. It makes it so much easier for you!
Efficiency and Training
Efficiency is directly tied to training. Cleaning companies can screen applicants beforehand to ensure that they have the skillset and physical stamina to fulfill cleaning tasks. Cleaners are trained before sending them to your home. At Better Home Cleaning, our technicians are professionally trained to follow our cleaning checklists so that you can expect a consistent cleaning every time.
Solo cleaners are usually self taught and that comes with some risk. It can lead to using incorrect cleaning products or techniques that can be detrimental to your home. A cleaning company will ensure that their employees know how to properly clean every surface in your home.
Scheduling and Flexibility
The final factor to consider is scheduling and flexibility. A professional cleaning company's job is to provide service that fits YOUR schedule. Solo cleaners may have limitations in their schedules due to personal obligations as they balance personal life and cleaning clients. A company will always have more cleaners to work around your schedule.
When it comes to hiring a professional cleaning company or a personal housekeeper, there are pros and cons to both. It's important for you to consider the factors mentioned above and prioritize your desires before making a decision.
At Better Home Cleaning, we are 100% committed to giving our customers exceptional house cleaning services with unbeatable customer service. We would love to have you as a client and make you a part of our family owned business! Let us know if you have questions in the comments below.